On the Road with Laney's
OmniByte Customer ride-alongs allow our team to experience firsthand how our customers use our solutions and the impact they can have on their field techs. Read on to learn more about a recent ride-along with Thomas, an HVAC tech with Laney's.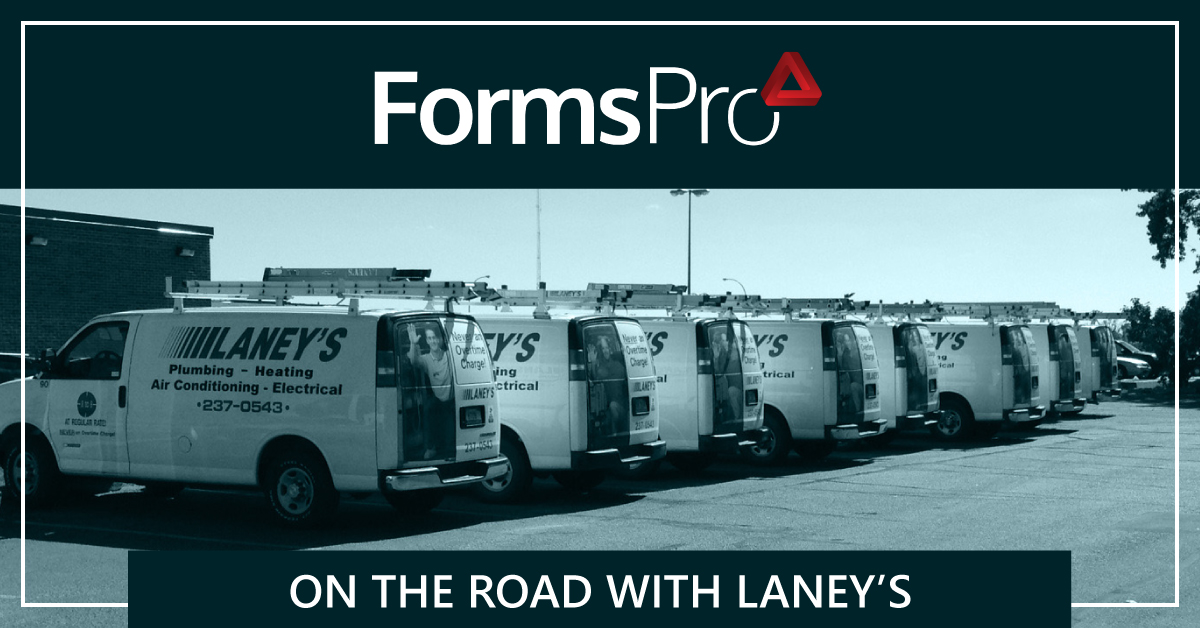 There are so many things I enjoy about my job as a software engineer at OmniByte but one of the highlights is that I have numerous opportunities to interact with our customers. Ride alongs with customers allow me to experience firsthand how they use our solutions, allowing me to incorporate their feedback into our product designs. I recently had the opportunity to ride along with Thomas, an HVAC tech with Laney's. An OmniByte customer since 2017, Laney's uses both FormsPro and TechPro.

But first, I need to back up to an earlier ride-along I had with Laney's in 2017. That could be summed up in one word: PAPER! And lots of it. We first needed to pick up the paper with the service call written on it, complete paperwork for a purchase order we needed to make and pick up at a supplier, and then fill out paperwork on the actual service call. All this paper involved several different people as well as extra steps (literally and figuratively) at the Laney's warehouse. Oh, and the tech needed to enter the address from the service call paper into Google Maps to get directions.
My recent ride-along was so different! Thomas had everything he needed on his phone via FormsPro and TechPro. Thomas grabbed the part he needed for the service call, pressed the map icon in TechPro, and off we went to the customer's residence to replace a gas valve on a furnace. Once replaced, Thomas had the customer review the service call fee via his phone and accept and sign. Next, the customer reviewed the email address that Laney's has on file so that the invoice could also be sent via email. And just like that, the service call was complete!

During my 2017 ride-along, the tech had handwritten notes, totals, and an invoice that required multiple pieces of paper to be given to the customer. This prolonged our time on the service call and at the residence.

This time around, Thomas completed his service call notes via his phone in his van once the call was done. Considering that this customer was working from home in an adjacent room, it was even more critical that the service call be completed in a timely fashion.

Thomas treats TechPro like any other tool in his toolbox. The result? Efficient service calls and satisfied customers.
Laney's At-a-Glance:

Founded in 1960 in Fargo, North Dakota, as a small family company, Laney's has grown to a team of more than 100 professionals committed to providing outstanding customer service.

Laney's provides plumbing, heating, cooling, and indoor air quality services.

Known for its "8 to 8 at the regular rate" jingle, Laney's never charges for overtime and is available 24/7/365 for its customers.

Laney's offers a free second opinion as well as financing options.